CHEVROLET SERVICE CENTER in Dayton, OH

Why

service

your Chevrolet at the dealership?
When your car needs maintenance, should you go to the dealership or corner garage? You may find the quality of the service and parts to be much higher at the dealership. Here's why.
Genuine OEM Parts
If you bring your car to White-Allen Chevrolet for repairs that involve replacing components, our technicians will use only genuine OEM parts. These parts are exact copies of the ones that your vehicle came with when it rolled off the assembly line, meaning they have exactly the right specifications. Other repair shops are more likely to use general-purpose aftermarket parts not specifically designed for your Chevrolet, which means it may not function as well or last as long.
Certified Factory-Trained Technicians
Most garages hire well-trained technicians. But you won't often find non-dealership service centers that specialize in working on a single make or model. At White-Allen Chevrolet, our technicians are factory-trained to become experts at doing just that. They know the ins and outs of Chevy vehicles and they can identify problems and solutions regarding your specific Chevy model with ease. They'll also know the best, most up-to-date methods for fixing your ride. If you're looking for quality service, go to the dealership.
High-Tech Facilities
Dealership facilities are typically leagues ahead of smaller, independent repair shops. Bigger facilities and larger staff help us service more cars at the same time, while state-of-the-art tools and machines ensure a higher quality of service as well as faster turnaround times. Your time is precious. Why waste it at a corner garage when you could drop your car off at White-Allen Chevrolet, grab a cup of coffee, and be on your way?
What to Expect at Your Service Appointment in Dayton, OH
Staying on top of service appointments improves your safety behind the wheel and ensures your vehicle maintains more value over time. Scheduling your next routine maintenance appointment at White Allen Chevrolet in Dayton, Ohio, is easy - but what about the next part? What should you expect at your service appointment?
Pre-Service Prep
You can conveniently schedule an appointment on our website or by phone call. But before you show up, make sure you have a plan for what to do without your car. You'll need to decide whether you'll stay at the dealership or drop off the vehicle while our technicians work on it.
When You Get To The Dealership
When you arrive at the dealership, simply pull up to the service bay and get out of your vehicle. Make sure to remove any personal belongings from the interior such as a wallet, phone, or work ID. Our service advisors will ask you what concerns you have about the vehicle, so this is a good time to describe your experience with driving it and what kind of work you believe it needs.
Our staff may also have helpful service recommendations. Because they are trained by Chevrolet to be an expert on your vehicle, they'll have the knowledge necessary to solve your issues and proactively prevent other ones.
During The Service Appointment
Most routine appointments involve at least oil and oil filter changes, a tire rotation, and a few cursory inspections of major components. If our technician notices a previously unseen problem, we'll give you a call to ask what you want to do. You can choose to get the issue resolved immediately or whenever is most convenient for you. Because our dealership has factory-trained technicians and OEM parts, it's generally a good idea to get the repairs done on the spot.
For the highest-quality service, make sure to get your car inspected and maintained at White Allen Chevrolet! Call our dealership in Dayton, Ohio, to schedule your appointment!
Service Offers And Pricing
We offer competitive prices on popular vehicle services like oil changes, brakes and tires.
Maintenance
Need New Tires?
Your vehicle's tires are the first and only contact with the road, so it is important to choose the right set when replacing them. White-Allen Chevrolet has Certified Service experts that will handle all of your tire needs. From checking tire wear to tire pressure, our team can also help you find new tires for your vehicle.
Need an Oil Change Near Dayton
Driving around with dirty oil - or not enough oil - can shorten the life of your engine. Our Certified Service experts can change your oil quickly. Schedule an appointment today.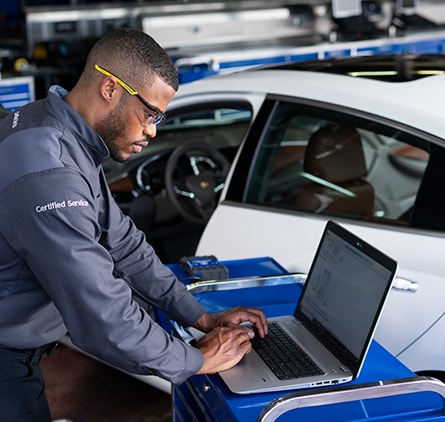 MULTI-POINT VEHICLE INSPECTION
With your Multi-Point Vehicle Inspection, you get a thorough assessment of your vehicle by the Certified Service experts. So protect yourself and your automotive investment with a comprehensive vehicle inspection at your White-Allen Chevrolet today.
Download the GM Multi-Point Vehicle Inspection Sheet
The Multi-Point Vehicle Inspection form uses a simple color-coded key to assess maintenance terms:
Red indicates items that need immediate attention.
Yellow indicates items that should be addressed in the near future.
Green indicates no items to address.
Hearing Brake Noise?
Stopping power is crucial to a safe and successful driving experience. When you need brake service, visit White-Allen Chevrolet and the Chevrolet Certified Service experts can recommend quality new brakes.
Battery Trouble?
Your vehicle's battery provides energy to start the engine, plus it supplies power to accessories when the engine is not running. The cold of winter and the heat of summer can affect your auto battery. See us for your vehicle's battery needs.
GET IN TOUCH
Contact Our Service Department
Service

:

(877) 241-4345
Monday

7:00 am - 6:00 pm

Tuesday

7:00 am - 6:00 pm

Wednesday

7:00 am - 6:00 pm

Thursday

7:00 am - 6:00 pm

Friday

7:00 am - 6:00 pm

Saturday

Closed

Sunday

Closed
See All Department Hours
Dealership Hours
Monday

9:00 am - 7:00 pm

Tuesday

9:00 am - 7:00 pm

Wednesday

9:00 am - 7:00 pm

Thursday

9:00 am - 7:00 pm

Friday

9:00 am - 6:00 pm

Saturday

10:00 am - 5:00 pm

Sunday

Closed
Service Dept. Hours
Monday

7:00 am - 6:00 pm

Tuesday

7:00 am - 6:00 pm

Wednesday

7:00 am - 6:00 pm

Thursday

7:00 am - 6:00 pm

Friday

7:00 am - 6:00 pm

Saturday

Closed

Sunday

Closed
Parts Dept. Hours
Monday

7:00 am - 6:00 pm

Tuesday

7:00 am - 6:00 pm

Wednesday

7:00 am - 6:00 pm

Thursday

7:00 am - 6:00 pm

Friday

7:00 am - 6:00 pm

Saturday

Closed

Sunday

Closed