Chevrolet Parts Dayton OH
Looking for a dealership that specializes in Chevrolet cars and parts for Ohio customers? Look no further than White-Allen Chevrolet. We're a leading Chevy dealership, offering you all models of Chevrolet vehicles and genuine Chevy parts. Learn more, and order your Chevy parts today!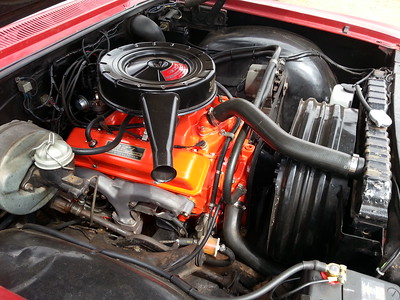 Tires
Your vehicle's tires are essential for a safe and comfortable driving experience. At White-Allen Chevrolet, we stock all sizes and brands of quality tires. So whether you want to overhaul all your tires or are in need of a simple puncture repair, we have you covered. We also check tire pressure and tread depth and perform wheel balancing and alignment.
Brake Pads and Rotors
Your vehicle's brakes can become ineffective from wear and tear. Don't compromise your safety on the road with bad brakes. Check in at White-Allen and have your brakes checked by our in-house experts. We replace brake pads and brake rotors so you can drive with peace of mind.
Clutch
Is your car struggling with transmission issues? Maybe it's time to have the clutch repaired or replaced. Whether you need a new pressure plate or just a hydraulic fluid change, our experts are always ready to check all your clutch issues and recommend the best option to get your vehicle firing again.
Cylinder Head Gasket
If your vehicle's engine is underpowered, overheating, or has smoke emanating from the engine bay, it's time to have the cylinder head gasket checked. Our team of engine experts are on hand to get down to the root of the problem. At White-Allen, we have all varieties of cylinder head gaskets to keep your engine firing and driving smokeless.
Radiator
The radiator plays a major role in keeping your engine cool. If your temperature gauge is rising steadily and the engine is overheating, it's time for a radiator check. At White-Allen, we check the fins of your radiator and look for any signs of coolant leakage or the presence of rust and rubble. Depending on the problem's magnitude, our experts might recommend a radiator flush, fin repair, or radiator replacement.
Oil Filter
Your car engine deserves the purest oil to keep it going for longer, and this is why the engine oil filter is an essential component of your car. After prolonged use, the oil filter gets clogged with dust and other contaminants, becoming ineffective in keeping out dirt from the engine. Check in at White-Allen for an oil change, with a new oil filter if needed, and let your engine breathe again.
Spark Plugs
Your vehicle's spark plugs can get corroded or dirty, rendering them ineffective in igniting the air-fuel mix. Drop at White-Allen and have your spark plugs checked. They may only require some cleaning or replacing. Whatever the solution, our experts will do what's needed as you wait.
Battery
Is your car struggling to start in the morning? Or have you found yourself calling for help to jump-start your vehicle lately? Bring your frustrations to a halt by visiting our dealership and getting your battery tested. The battery could be on a low charge, or it could be on its deathbed. Whatever the case, rest assured that we have a solution to all your battery problems, including instant replacement.
Engine Air Filter
Your engine needs a constant supply of air to run efficiently. The air must be free from foreign particulates that might clog the engine. The air filter is an essential component for ensuring that the air that goes into your engine is clean. Get your car fitted with a clean air filter and keep your engine clean and healthy for longer.
Windshield
The windshield makes it possible to drive in all conditions. The windshield could crack from the impact of such obstacles as pebbles, hail, or other debris. You might also be caught up in an accident, leaving the windshield shattered. Don't suffer with poor visibility. Check in at White-Allen for windshield repairs and replacement.
Fuel Pump
The fuel pump is responsible for getting fuel from the tank to the engine. If fuel can't get to the engine, your car simply can't move. The malfunctioning might result from the fuel pump sucking in dirt or from rust in the fuel tank. Let our experts check your fuel pump for functionality and advise on the best solution.
Starter
Having a malfunctioning starter is every car owner's nightmare. When you sense a problem with your starter, check in at White-Allen immediately and have your starter problems sorted out. You could havea problem with its internal components, or the starter could be crying for replacement. We have starter repair experts and a new starter in case your car may need one.
Lights
Your vehicle's lights are critical for visibility and for communicating with other road users. If you have problems with any of your vehicle lights, don't hesitate to get help. Maybe it's just bulbs that need replacing. We can do that while you wait. We replace all lights and make it safe for you to drive again. We will also replace broken lenses that not only detract from your vehicle's appearance but also can illegally present taillights as white.
Benefits of Using Certified OEM Parts
Here are the top benefits of fitting your Chevy with certified OEM parts;
Guaranteed quality: By using OEM parts, you get a guarantee that you're fitting your car with the best parts and that they fit perfectly and function properly.
Value for money: Replacing your car parts with OEM parts gives you value for your money, as you don't run the risk of frequent breakdowns. You won't have to go back for another change of the same part frequently.
Longevity: Using OEM parts not only saves you money but also increases your vehicle's operational life.
High performance: OEM parts undergo rigorous quality tests before leaving the factory floor. They therefore guarantee you the highest standard of performance for your vehicle, giving you peace of mind.
Warranty: OEM parts come with a warranty. This implies that you won't have to pay a penny more if the part fails within the warranty period.
Contact Us and Order Your Chevy Parts
If you're looking for genuine Chevrolet parts, order your parts online, or contact us today for help. If you don't find what you want, call us at 855-783-3814, and we will get it for you in no time. You can also visit any of our stores and speak to our experts one on one.