Welcome to Our Financing Department
Welcome to the Finance Center at White-Allen Chevrolet. Our dedicated team of financial experts is ready and eager to assist you in getting the best possible auto financing deal. We offer a wide array of financing solutions to suit the unique needs and preferences of different vehicle buyers, so you can rest assured you'll find your ideal auto loan for a new Chevy or used car in Dayton.
At White-Allen Chevrolet, we understand that your car loan can have a long-term impact on your personal finances. Therefore, we'll go above and beyond to help you enjoy your dream car without compromising your financial freedom.
How Auto Financing Works
Most people don't have enough cash to buy a vehicle upfront, meaning they need to get auto financing. When you finance a vehicle, you're borrowing money from a financial institution or independent lender to fund your car purchase. Typically, you have to make a down payment and then pay back the rest of the purchase price through monthly installments plus interest for the entire duration of the loan. Loan terms for auto financing usually range from three to six years.
Similar to any other loan, a car loan requires you to pay interest and processing fees. The interest rate varies depending on several factors, including your loan term, down payment, credit score, and income. Your vehicle will serve as collateral for your loan, meaning it's subject to repossession if you default on your payments.
Why You Should Finance Your Vehicle Through a Dealership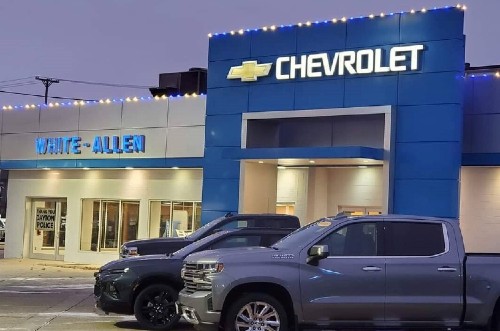 Many vehicle buyers prefer to get auto financing from a dealership for good reason. Besides being a convenient option, dealership financing offers the following benefits:
More Financing Options
Direct lenders such as banks and credit unions usually don't have many auto financing plans for you to choose from. If you decide to get a loan from one of these lenders, you probably have to settle for a less-than-ideal payment plan or loan term. On the other hand, an auto dealership is able to provide you with a wide selection of financing solutions because of its extensive network of lending partners. If you aren't satisfied with a particular loan, you can request additional options and choose one that perfectly matches your needs.
Easier Approval
One of the reasons why many car buyers are hesitant to get an auto loan from an established financial institution is because of the strict lending requirements. If your credit score is less than stellar, you'll most likely face rejection. Even if a bank or credit union is willing to consider your application, you may have to provide additional financial documents or get someone to act as a guarantor, which can make the process lengthy and stressful.
Financing a vehicle through a car dealership is much easier and faster. A dealership not only works with financial institutions, but it also has connections with smaller lenders with more relaxed requirements. As such, you don't need to have an excellent credit rating to be eligible for an auto loan. A dealership can also help car buyers with bad credit get their loans approved by making special arrangements with certain lenders.
More Personalized Financing
Banks tend to have more rigid auto financing products and processes. Usually, if you aren't happy with certain aspects of a financing plan or don't qualify for a loan, you don't expect a bank to make adjustments to suit your specific needs and circumstances.
In contrast, an auto dealership is more willing to go the extra mile for you to provide you with a great car-buying experience and build a long-term relationship with you. So, even if you have a complicated financial situation, the finance professionals at a dealership will try their best to help you find the perfect financing solution.
Auto Leasing
Besides car financing, an auto dealership also gives you the option to lease a vehicle. Getting a car lease is something you should consider if you want to drive home your favorite car without having to spend a large sum of money. It typically requires little to no down payment and comes with significantly lower monthly payments than traditional auto financing. Also, you may have warranty coverage throughout your lease term if you opt for a shorter lease. This means you don't have to worry about paying for repairs out of your own pocket.
With auto leasing, you don't own the vehicle. However, you can choose to purchase the car when your lease expires. Alternatively, you can just return the car to the dealership and lease another car. You don't have to find a buyer and haggle over the selling price.
What to Expect When You Apply for Auto Financing at White-Allen Chevrolet
With many years of experience in the automotive retail industry, the team at White-Allen Chevrolet knows that obtaining auto financing can be difficult and stressful for some vehicle buyers. Therefore, our finance experts are specially trained to provide you with clear and comprehensive guidance every step of the way. Also, we try to make the process as quick and easy as possible by allowing you to apply for a pre-approved auto loan online.
After you submit your loan application to our dealership, we'll go through it and try to find a financing plan that matches your needs. If everything goes well, you can get pre-approved in 24 hours or less. The loan approval process may take a longer time if you fail to submit any of the required documents or have a low credit score. We can also assist you in refinancing an existing loan or consolidating your debt to make your financial obligations more manageable.
Contact White-Allen Chevrolet
The finance team at White-Allen Chevrolet has extensive knowledge and experience in the field of auto financing, so you can count on us to help you secure the best financing deal. Get preapproved for a car loan today with our online application form so that you can start shopping for your dream car as soon as possible. Feel free to contact us if you have any inquiries.