If you want to better connect with your Dayton, Ohio community, consider volunteering at a charitable organization. Volunteering helps others within the community and makes you feel like you have a sense of purpose. It also can provide a look at life from someone else's perspective. If you're looking for volunteer opportunities in the Dayton area, explore this list of organizations and charities that our team at White Allen Chevrolet has compiled so you can decide which one resonates the most with you.
Dayton Crayons to Classrooms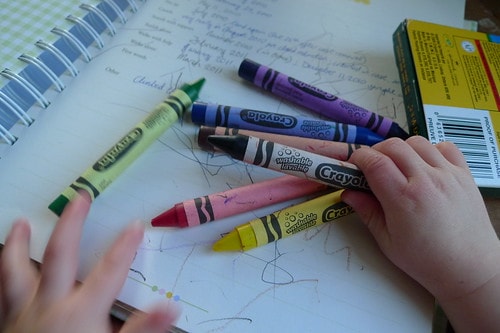 Image via
Flickr
by Ruth and Dave
Often, underfunded school teachers struggle with the lack of school supplies for their students, and some teachers will purchase supplies from their pockets. Dayton Crayons to Classrooms eases that financial strain by allowing kindergarten through 12th-grade teachers at eligible schools to shop at the Goodwill Easter Seals Miami Valley in Dayton for much-needed school supplies, free of charge.
Dayton Crayons to Classrooms has plenty of opportunities for you to lend your support. For instance, you can help with cashier duties, office assistant work, special outgoing projects, classroom solutions such as making cut-out letters, assembling paperwork, and boxing up supplies. To find out more, you can visit Crayons to Classrooms at 1750 Woodman Drive in Dayton or contact them at 937-528-6400.
ProMedica Hospice Serving Miami Valley
ProMedica Hospice Serving Miami Valley offers pain management and physical, psychological, and family support for the terminally ill. Because having a terminally ill family member or friend can place untold emotional hardship on caregivers, a hospice can give the patients much-needed care and provide a safe and supportive atmosphere for caregivers.
ProMedica Hospice Serving Miami Valley can always use volunteers for various tasks and support. Volunteer opportunities include running errands for families of hospice patients, reading or playing music to patients, and staying with the patients in their final hours.
ProMedica Hospice Serving Miami Valley also has a special veterans hospice program and welcomes U.S. military veterans to help with volunteer opportunities in their Vets-to-Vets Program. Being a volunteer with ProMedica Hospice Serving Miami Valley can provide patients, family members, and caregivers rest and support. Call ProMedica Hospice Serving Miami Valley at 866-498-6456 to inquire about volunteer opportunities.
United Way of the Greater Dayton Area
Helping build strong communities, overcoming racial inequality, and helping those in need defines the United Way of the Greater Dayton Area. This organization and its volunteers help people of all walks of life, and for over 100 years, it has helped uplift communities within Miami Valley and the Greater Dayton area. They have several programs that help, including Strong Families that help families undergoing a financial crisis find stability and support.
Another key program of the United Way of the Greater Dayton Area is the Essential Needs program helping provide emergency services whether after a natural disaster, due to a financial crisis, or for victims of domestic violence. United Way of the Greater Dayton Area works with Miami Valley charitable organizations that need volunteer help, including food services, food pantries, home repairs, office work, and gardening. You can call the United Way of the Greater Dayton Area at 937-225-3001 or stop by their office at 33 W.1st Street.
Our Farm Sanctuary
If you want to help an organization that takes care of abandoned, abused, or neglected animals until the end of their days, consider volunteering at Our Farm Sanctuary. This nonprofit organization's mission is to provide compassionate living, shelter, food, and human touch to these animals that may have arrived at Our Farm Sanctuary hungry, frightened, and hurt. Animals you may find here include cats, dogs, farm animals, birds, and even reptiles. Animals that have been socialized are available for adoption while others can live out their lives comfortably at Our Farm Sanctuary.
Volunteer opportunities include feeding and cleaning, helping with adoptions, repairing the kennels, fences, and barns, and providing a foster home for select animals. Off-site volunteer opportunities include helping with fund-raising events such as attendance at show booths, holding garage sales, or assisting with mailings. For volunteer opportunities with Our Farm Sanctuary, fill out the online application, call them at 614-772-5641, or stop by at 6495 Agenbroad Road in Tipp City.
Rebuilding Together Dayton
Many low-income senior citizens in the Dayton area live in sub-standard housing. Rebuilding Together Dayton creates safe and healthy homes for these low-income senior citizens so they can live comfortably. Rebuilding Together Dayton provides home repairs or modifications for eligible senior citizens free of charge. In addition, Rebuilding Together Dayton has paired with Dayton's Community Revitalization Program to help create safe and healthy neighborhoods in specific locations. These services include contributing to community infrastructures such as local parks, community centers, playgrounds, schools, and open spaces.
You can help Dayton communities and low-income senior citizens by applying for a volunteer position with Rebuilding Together Dayton. Openings include the need for skilled workers such as plumbers, electricians, or carpenters. In addition, Rebuilding Together Dayton has openings for gardeners and yard maintenance personnel. Find Rebuilding Together Dayton at 30 S. Main Street, Suite B, or give them a call at 937-223-4893.
All of us at White Allen Chevrolet understand the importance of volunteering, and we hope you found the perfect opportunity that resonates with your heart and lifestyle. Which volunteer opportunity do you and your family participate in and why? If you can recommend any other charities or organizations that need volunteer help in the Dayton area, please let us know, and we'll add your recommendation to our list.
If you need a new or used Chevrolet vehicle to help you get to and from your volunteer organization, our friendly team can help you find the perfect car to drive year-round in the Dayton area.