If you're looking for something interesting to do on a free weekend or evening in the Dayton area, you'll find several fascinating museums to explore. Stop for a slice at one of Dayton's great pizza spots and complete your day with an unforgettable exploration of one of these destinations. Whether you're a family looking for kid-friendly exhibits that make learning fun, or you're an adult who wants a quiet stroll through a culturally rich art museum, there's something here for you to enjoy.
Always check the current operating hours before you visit, as many of these locations have adjusted their schedules or rules due to Covid. In some cases, you may need to make reservations or secure tickets in advance.
National Museum of the United States Air Force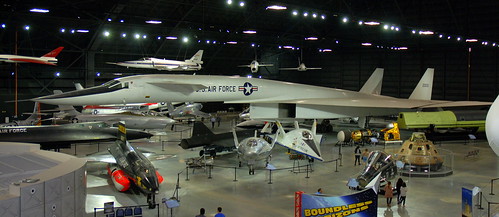 Located at Wright-Patterson Air Force Base, the National Museum of the U.S. Air Force is the largest military aviation museum in the world. The museum encompasses over 19 acres of indoor space, where you'll find more than 350 missiles and aerospace vehicles, as well as thousands of artifacts. Explore the early years of aviation with an up-close look at some of the most formative aircrafts in history, including a Wright 1909 Military Flyer, G-3 Target Glider, and Boeing P-26A alongside weaponry such as a Mark I Demolition Bomb and 37mm Aircraft Cannon.
Proceeding through aviation history, you can explore the World War II Gallery, Korean War Gallery, Southeast Asia War Gallery, and Cold War Gallery. The museum also features galleries highlighting missiles, space, research and development, and more. View the North American Rockwell Apollo 15 Command Module Endeavor, space suits from 1963, 1966, 1969, 1971, and 1994, and a Vought ASM-135A Anti-Satellite Missile. Outside, you can explore the air park with a WWII 8th Air Force Control Tower, WWII Nissan Hut, Peacekeeper Rail Garrison Car, and five distinct aircraft.
Admission to this fascinating museum is free, making it a must-see for anyone who's in the Dayton area.
Boonshoft Museum of Discovery
Designed for visitors of all ages, the Boonshoft Museum of Discovery features a wide range of exhibits that explore science, nature, construction, and more. You can view live animals like river otters, meerkats, and crustaceans in the Discovery Zoo. The Oscar Boonshoft Science Central exhibit facilitates hands-on experiments, while the Hall of the Universe lets you explore the galaxy. You can learn about local aquifers in the Splash! exhibit, or try your hand at building with oversized "briks" in the Strictly Briks space.
Each year, the museum offers free admission on four Saturdays. This includes complimentary access to the Space Theater Shows and Special Exhibitions on these days. Regular admission is $11.50 for children and $14.50 for adults.
Dayton Art Institute
Open Fridays, Saturdays, and Sundays, the Dayton Art Museum houses a collection of over 27,000 objects, of which about 1,000 are on display at any given time. These pieces cover 5,000 years of history, providing an expansive look at art and culture throughout civilization.
The museum's main wings are the Berry Wing of European Art, the Patterson-Kettering Wing of Asian Art, and the Dicke Wing of American Art. Inside the facility, you'll also find dedicated galleries for Ancient Art, Art of the Ancient Americas, Native American Art, African Art, Oceanic Art, Photography and Glass, and Outdoor Sculpture. The museum regularly hosts special exhibits as well, so you can see something new every time you visit.
General admission to the Dayton Art Institute is $15. Children age six and under are free.
America's Packard Museum
The building that houses America's Packard Museum was originally constructed in 1917. This restored Packard Dealership is the only such building to operate as a modern-day museum, offering a distinctive look through the history of Packard automobiles. This museum houses more than 50 automobiles in the stunning Art Deco showroom, pavilion, and service center.
Car aficionados will adore this museum, which has the world's largest public collection of Packard vehicles and memorabilia. You can view cars from 1903 through 1956. The museum is temporarily closed but is regularly open seven days a week. Admission is around $6.
Dayton International Peace Museum
The Dayton International Peace Museum was founded in 2004 in honor of the 1995 Dayton Peace Accords. Also known as the Dayton Agreement or Dayton Accords, this agreement put an end to the Bosnian War. The Dayton Peace Accords were reached at the nearby Wright-Patterson Air Force Base. Lisa Wolters, J. Frederick Arment, Steve Fryburg, and Ralph and Christine Dull founded the museum with the goal of inspiring peace around the world.
The museum was originally housed in the historic 1865 Isaac Pollack House. Over three stories, it featured exhibits including a Gandhi photo collection, children's room, and peace labyrinth. The Dayton International Peace Museum is relocating in 2021 to the Courthouse Plaza SW building. This space covers 4,600 square feet and will include an exhibition space, theater, studio, and multi-purpose classroom. The museum is scheduled to reopen on the International Day of Peace, September 21.
British Transportation Museum
The British Transportation Museum is dedicated to preserving the heritage of British motor vehicles as they're used in the United States. It explores the intriguing role of British-built vehicles in American lives. Inside, you'll find photographs, memorabilia, vehicles, and vehicle parts. The collection includes dozens of vehicles, most of which are complete.
The British Transportation Museum's collection includes a 1936 Austin 20 Mayfair Limousine, 1960 Peerless GT, 1964 Mini Cooper S, 1972 Jaguar XJ6, and much more. You don't have to know a lot about these cars to appreciate the museum, however, as many of their stories are clearly portrayed, making the site fascinating whether you're a dedicated car lover or not. The museum is open Mondays and Saturdays from 10 a.m. to 4 p.m. Admission is free, but donations are welcome.
Did we include your favorite museums on our list? If we're missing any great destinations in Dayton, let our team know. Contact us at White Allen Chevrolet so we can always provide the best recommendations to our customers.
Image Credit: roly-sisaphus via Flickr