Are you tired of the same old pies from chain pizzerias? Cure those pizza blues by visiting a local pizzeria. Dayton-area pizza joints are making pies fresh daily in every style from Sicilian to Californian. Check out one of these five favorites in the Dayton, Ohio, area the next time you are looking for an easy, crowd-pleasing dinner option.
Old Scratch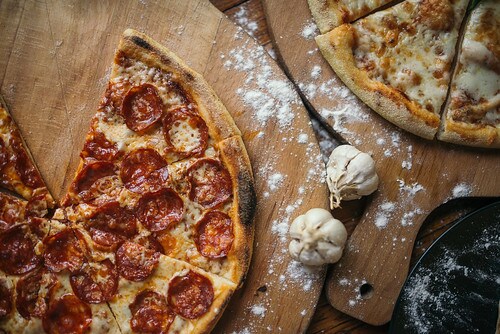 Old Scratch is one of the most popular pizzerias in Dayton. Old Scratch has been making Neapolitan-style pizzas for the last five years in downtown Dayton. A casual, counter-service pizza restaurant, Old Scratch is a great place to enjoy a pie and a beer with family and friends. With 20 beers on tap (many from local breweries), and lots of vegan, vegetarian, and gluten-free options, there is something for everyone at Old Scratch.
Old Scratch bakes all of their pizzas in a blistering 800-degree wood-burning oven. Their red-sauced pies include the Angry Beekeeper, made with red sauce, fresh mozzarella, basil, spicy salami, hot honey, and olive oil. White-sauced pies include the Birdie, made with chicken sausage, roasted tomatoes, taleggio cheese, fresh mozzarella, caramelized onions, and thyme. The menu includes many high-end toppings, such as Calabrian chilies, truffle oil, house-made sausages, and prosciutto.
The large dining room at Old Scratch has a warehouse feel. Dine-in, carryout, and curbside pickup are always available at Old Scratch. You can find them on South Patterson Boulevard. Old Scratch is open Tuesday through Thursday from 11 a.m. to 9 p.m., Friday and Saturday from 11 a.m. to 10 p.m., and Sunday from 11 a.m. to 9 p.m.
Dewey's Pizza
Dewey's Pizza is known for its creatively named pizzas and gourmet toppings. The menu includes specialty pizzas, such as the Van Damme (fontina, roasted Brussels sprouts, onions, and bacon) or the Edgar Allan Poe (kalamata olives, goat cheese, and tomatoes). Gourmet toppings include prosciutto, beer-braised onions, roasted cherry tomatoes, and goat cheese. Gluten-free pizzas are also available.
Other menu offerings include calzone and sandwiches on freshly baked bread. Dewey's party salads are the perfect accompaniment to their pizza and can feed 10 to 15 people. Dewey's also offers desserts made by local confectioners.
Dewey's offers dine-in, carryout, and delivery. Reservations are required for dine-in service. Dewey's has several locations in Ohio, but you can visit Dewey's Pizza in Dayton on Jasper Street at the University of Dayton. They are open Monday through Thursday from 11 a.m. to 9 p.m., Friday and Saturday from 11 a.m. to 10 p.m., and Sunday from 4 p.m. to 9 p.m.
Wheat Penny
Wheat Penny is known for its California-style pizza made from an extensive list of specialty toppings, such as vegan cheese, shoestring onions, chimichurri, and red chorizo. One of Wheat Penny's most popular specialty pizzas is the Streets of Laredo, which is made with an olive oil base and topped with provolone, mozzarella, roasted butternut squash, and house-made chorizo. Other notable pizzas include the Angry Sal (Italian sausage, mozzarella, and spicy tomato) and the Okie Dokie Artichokie (bechamel, spinach, fontina, artichoke hearts, and garlic).
The dough at Wheat Penny is hand-made and allowed to develop for 48 hours before being crafted into a cheesy, delicious pie. Gluten-free pizza is also available.
In addition to their pizzas, Wheat Penny offers an extensive selection of soups, salads, pasta platters, and sandwiches.
Wheat Penny also has an expansive drinks menu, including craft beer, wine, and homemade sodas. Carry-out cocktails include classics, such as the Whiskey Sour and Manhattan, as well as funky new creations, such as The Specter (vodka, bourbon, and gin) and Purple Dayz (tequila and prickly pear syrup).
Wheat Penny is open for dine-in, carryout, and delivery. Reservations are required for dine-in service. Walk-ins are welcome in the bar and patio areas. Visit Wheat Penny on Wayne Avenue Tuesday through Thursday from 11 a.m. to 8 p.m. or Friday and Saturday from 11 a.m. to 9 p.m.
Flying Pizza
Flying Pizza
is a family-owned pizzeria, now owned by the second generation of the Graci family. Every crust is hand-tossed high into the air, hence the name "Flying Pizza." Flying Pizza serves up New York-style pizza in the middle of Dayton. You can order pizza by the slice, whole traditional pies, or whole thick-crust Sicilian square pies. All pizzas are made to order with traditional toppings, such as mushrooms, pepperoni, and homemade meatballs. The chefs at Flying Pizza make fresh dough and sauce daily. Gluten-free and white pizza are available upon request.
Flying Pizza is open for carryout or dine-in. Visit them on North Main Street Monday through Saturday from 10:30 a.m. to 7 p.m.
Cassano's
Cassano's is known as "The Pizza King" of Dayton. Cassano's started as a family-owned pizzeria in 1953 and has since grown to several locations throughout Ohio. You can make a pizza from their long list of traditional toppings or choose one of Cassano's signature pies, such as The Big 60 (double cheese and 60 pepperonis), or Hog Wild (bacon, sausage, ham, and jalapenos). Got a crowd to feed? Order one of Cassano's giant 30-inch party pizzas, made with toppings of your choosing. You can also treat your sweetheart to one of Cassano's popular heart-shaped pizzas.
Want to have a pizza-making party at home? Cassano's offers pizza packs with everything you need to make Cassano's in the comfort of your kitchen. Pizza packs include six crusts, Cassano's cheese blend, pepperoni, and homemade red sauce. In addition to pizza, Cassano's also offers subs, calzone, grilled cassinis, pasta dishes, and salads. Don't forget to order some of Cassano's colossal 8-inch chocolate chunk cookies, freshly baked daily.
Cassano's Dayton location is on West 3rd Street and offers dine-in, carryout, and delivery. Cassano's is open Monday through Thursday from 10:30 a.m. to 11 p.m., Friday and Saturday from 10:30 a.m. to midnight, and Sunday from 11 a.m. to 11 p.m.
There you have it! These are White Allen Chevrolet's top pics for Dayton pizza places. If you have a favorite or hidden gem that we missed, drop us a line and let us know! We will add it to our list