From fresh seafood to incredible pizza, Dayton, Ohio is home to plenty of outstanding restaurants, including numerous finger-licking good barbecue rib joints. Whether you prefer your ribs smoky or sweet, you'll find options that will hit the spot when you check out these best barbecue rib restaurants in Dayton.
Smokin' Bar-B-Que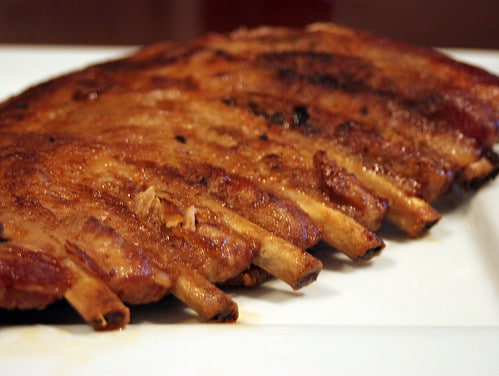 Smokin' Bar-B-Que opened in 2005 in the vintage 1941 White Tower Diner on East Fifth Street. Since then, the restaurant has been voted one of Dayton's best barbecue joints. The ribs here are never boiled. Instead, they're slow-smoked on-premise for up to seven hours with a dry spice rub and hickory wood. You'll find plenty of tasty rib options on the menu. One popular choice is the rib sandwich, which comes with two bones and chips on the side.
If you decide to go with the rib dinner, you'll enjoy three to four bones with your choice of two sides. When you really have an appetite, the whole slab of ribs that comes with 12 bones is sure to please. For times when you're not quite as hungry, go with the half slab of ribs that has six bones. If you're not hungry enough to eat a whole dinner, you can always order by the bone.
The rib tips are another popular menu item at Smokin' Bar-B-Que. Normally the tips are often the toughest part of the rib, but this restaurant slow smokes them in a delectable sauce so they're tender and tasty. If you decide you want to savor these delectable rib tips, you can order the tips and chips, the tips dinner, or a pound of tips.

Image credit: Maggie Hoffman via Flickr
Joe Kiss Hickory Bar-B-Q
In 1962, Joseph and Irene Kiss opened The Old Hickory Bar-B-Q on Brown Street with Irene's brother Steve Kolb and his wife Sylvia. When Joe and Irene bought out Steve and Sylvia in 1989, they changed the name of the restaurant to Joe Kiss Hickory Bar-B-Q. Joe and Irene worked in every part of the restaurant, including waiting tables, bartending, and preparing food. Since that time, the restaurant has stayed in the Kiss family, and almost all of the family members have worked there throughout the years.
If you decide to come for lunch and you're in the mood for ribs, you won't be disappointed ordering the rib entree. This meal includes five to seven tender ribs, a piece of bread, and your choice of one side. Or you can stop by for dinner and choose between the barbecue rib platter or the whole slab rib platter. If you happen to have someone in your group who's not interested in barbecue, the menu has plenty of other classic options they'll enjoy, such as steaks, broasted chicken, pork chops, fried shrimp, and fresh Atlantic salmon.
Huffie's Bar-B-Que
Huffie's Bar-B-Que is a laid-back family restaurant that offers a great range of menu items that includes everything from burgers and fish, to traditional soul food, and outstanding barbecue. You'll discover plenty of rib choices on the menu to satisfy your hunger. If you decide you're in the mood for pork spare ribs, your options include small end, center cut, or large end. You can also choose to get beef ribs or rib tips, plus all of these ribs also come as sandwiches.
All of the meal options include your choice of two sides such as green beans, collard greens, baked beans, coleslaw, potato salad, candied yams, macaroni and cheese, and french fries. You'll also find plenty of other delicious barbecue items on the menu, including brisket, half a chicken, pork shoulder, Polish sausage, and a pork slab.
Fatback's Barbecue
Fatback's Barbecue is a popular barbecue joint that has something for everyone on its menu. The restaurant is known for its Pig Pops, which are specialty cuts of tender pork covered in the famous rub, smoked with hickory wood, and topped with your choice of one of the signature barbecue sauces. The sauce flavors include sweet, warm and sweet, hot, Carolina mustard, and Carolina vinegar.
In addition to Pig Pops, Fatback's Barbecue also serves some outstanding ribs. The baby back rib options include whole slabs of ribs or half slabs of ribs. You can also order one of their delicious sandwiches. Popular choices include pulled pork, pulled chicken, chopped brisket with sauce, or sliced brisket. If you're feeling extra hungry, you can add a side of green beans, baked beans, coleslaw, macaroni and cheese, potato salad, or roasted potatoes to your meal.
Old Hickory Bar-B-Q
Old Hickory Bar-B-Q has been proudly serving delicious barbecue to the Dayton area since 1952. You'll find plenty of different rib meals on the menu. For large appetites, consider the slab of ribs. If your appetite isn't that big, the mini rack of ribs is ideal. Are you having a hard time choosing between all the tasty barbecue options on the menu? Then order the mini rib and chicken combo platter or the mini rib and pork chop combo platter. The restaurant also serves wildly popular boneless ribs.
If you're having a cookout at your home and you want to impress your guests, order the grill-ready ribs from Old Hickory Bar-B-Q, with size options including one rack, three racks, or six racks. The ribs come seasoned in the restaurant's famous dry rub. Simply take them home and cook them on your grill. You can even tell your friends you did all the work if you want to!
Don't forget to stop by for the daily specials. Wednesday has a special price on the rib meal, Friday has a special price on the boneless rib meal, and Saturday has a special price on the mini combo meals. The restaurant also serves a boneless rib sandwich every day as a lunch special.
When those of us at White Allen Chevrolet are in the mood for ribs, these are the places around Dayton where we like to go. Did we forget to mention one of your favorite barbecue rib joints? Then please be sure to contact us and let us know so we can add it to our list!