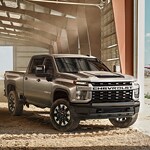 The new Chevy Silverado 2500HD is among the largest and toughest heavy-duty pickups on the road today. It is a dependable truck if you need a powerful workhorse that will handle both on -and off-road conditions with certainty.
Chevy Silverado 2500HD is the best-in-class pickup truck with two potent engine options. For drivers who need a moderate truck, the gasoline powered 6.6-liter V-8 engine that produces 401-hp and a torque of 464 lb-ft is a great choice. This truck will effectively carry heavy loads and passengers, thanks to its maximum trailering weight of 17,370 lbs.
For people who need more power and high trailering weight, the Duramax powered 6.6-liter Turbo-diesel V8 engine is a great choice. This powertrain produces 445-hp and 910 lb-ft of torque. It is coupled to a 10-speed automatic transmission that offers a nimble ride. The Chevrolet Silverado 2500HD is a perfect work beast for your heavy lifting and pulling.