Brunch has something for everyone, whether you're in the mood for a vegetable-packed omelet and a latte or an Italian sub and an iced tea. Explore the local food scene by sitting down for a mid-morning meal at one of Dayton's favorite eateries. We've gathered a list of some of the most popular places to grab a late breakfast or an early lunch here in town, with options for vegans, carnivores, and everyone in between. Here's our list of the five best brunch spots in Dayton, Ohio.
Lily's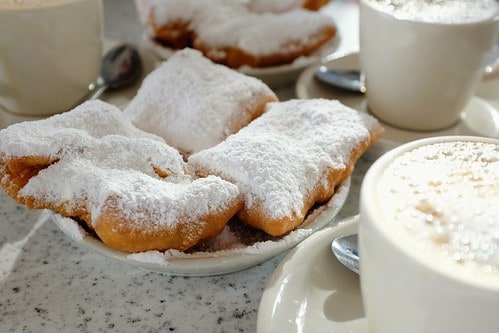 A staple of Dayton's trendy Oregon district, Lily's is a stylish hot spot with an extensive brunch menu full of one-of-a-kind dishes. Inspired by warmer weather, Lily's pairs home-style Southern cooking with tropical influences. Lily's has three different patios where you can enjoy your meal during the warmer months. Tropical plants decorating the inside of Lily's offer a taste of summer even during the harsh Ohio winter. Bring your furry friend along, too, because the patios are pet-friendly.
If you're in the mood for something savory, consider the beloved eggs Benedict. This plate of hollandaise-drenched poached eggs and English muffins come with your choice of the daily meat, sauteed crawfish etouffee, or sliced tomato and arugula for a vegetarian option. Split the cheesy deviled eggs with the table for a tangy appetizer and treat yourself to a Louisiana-inspired dessert with a plate of beignets.
Table 33
Table 33 is a restaurant by Dayton, for Dayton. This farm-to-table sources its produce locally, so you can feel good knowing you're supporting local farmers. You can expect unique spins on classic breakfast dishes and a diverse menu with plenty of delicious options for vegetarians, vegans, and gluten-free diners. Table 33 might be best for an early brunch, as they serve their breakfast menu through 11 a.m.
Favorites include the Bad Hunter, a vegan breakfast sandwich featuring fresh vegetables like pickled onion, avocado, lemony arugula, nuts, and hummus on ciabatta bread. Others love the gluten-free huevos rancheros, a plate of three breakfast tacos with spicy chicken, beans, salsa, eggs, cilantro, pickled jalapeno, avocado dressing, and cilantro piled into corn tortillas. To satisfy a sweet tooth, consider the Nana Chip Muffin, a vegan, gluten-free treat made with chocolate chips and organic bananas or the cinnamon roll, a freshly baked Midwestern delicacy with buttercream frosting and bourbon syrup.
Brunch Club
Brunch Club is a cozy breakfast and brunch spot in downtown Dayton, featuring a menu of well-reviewed, familiar classics. You're free to sleep in before heading to Brunch Club, too, because they serve both breakfast and lunch menus all day long. Local favorites include the sweet and crispy French toast and the protein-packed Meat Lovers Omelet. Fans of the Brunch Club also love the Southern Scrambler, an egg-based dish that doesn't skimp on meats, either. It comes with ham, bacon, and sausage, and it's topped with sausage gravy. Tomatoes, mushrooms, onions, and peppers add fresh flavor.
Bagels Benedict Arnold is a new perspective on a beloved breakfast dish, swapping out the English muffin for a soft bagel. Brunch is all about options, so remember to explore Brunch Club's lunch menu, too. They have six different types of burgers, five types of salads, and a sandwich that features everything from a chicken cordon bleu to a turkey reuben. Brunch Club is open Tuesday through Sunday from 8 a.m. to 1 p.m.
Central Perc European Cafe
If you're in the mood for something a little worldly, vary up your palette with a trip to Central Perc European Cafe. This British-inspired cafe serves generously portioned sandwiches, traditional afternoon tea, and a wide selection of coffee drinks. Enjoy a light English breakfast like cheesy toast or a breakfast sandwich on a flaky croissant, or consider pairing your drink with a fluffy scone. Scones come in flavors like plain, currant, and raisin, and you can top yours with butter, jam, or cream.
Sandwich options include the Full Monty, which pairs turkey and ham with egg salad, and Liverwurst topped with the works. Owned and operated by Dayton locals who grew up near Liverpool in England, Central Perc European Cafe offers an authentic British experience. With British decor, a wide variety of teas, and quiet ambience, this is the closest to Europe you can get without leaving Dayton.
Dewberry 1850 Restaurant & Lounge
Sometimes, it's nice to have an upscale option. For a classy brunch option that still offers plenty of comfort and charm, visit the Dewberry 1850 Restaurant & Lounge. You can find this hidden gem tucked away on the University of Dayton campus. Named for the historical Dewberry Farm in Dayton, this family-friendly eatery serves all your favorite new American breakfast dishes. Celebrate Dayton with a pick from their Regional Favorites menu, which features Biscuit Benedict, a buttery spin on eggs benedict, and a BLT sandwich on a toasted bagel with hummus for extra flavor.
If you can't pick between a salty or sweet order, combine both with the breakfast sandwich. The restaurant offers their unique take on the classic with bacon, eggs, and brie on cinnamon raisin bread. The Dewberry 1850 Restaurant & Lounge also offers a breakfast buffet for those who want a taste of everything. Buffet offerings include French toast, oatmeal and yogurt with a topping bar, fresh fruit, and breakfast meats.
There you have it. White Allen Chevrolet just updated you on five of the best brunch spots in Dayton, Ohio. Breakfast fuels you up to take on the day, even if it's at noon. Brunch can be a fun way to welcome the weekend, catch up with friends and family, and enjoy some delicious local food. Whether you're craving a stack of warm blueberry pancakes, a vegetarian egg scrambler with plenty of spice, or a reliable plate of eggs and bacon, one of these Dayton, Ohio, hot spots has the menu for you.
What do you think of our list of delicious Dayton brunch restaurants? Did we miss your favorite nostalgic diner or trendy coffee shop? If you know of a great local option for brunch,
let us know
so we can add it to our list. This weekend, pile your loved ones into your Chevrolet and head to one of these neighborhood favorites for a warm plate of comfort food.