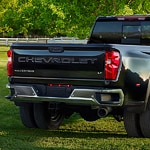 When you come into White-Allen Chevrolet, you will see all the great design features for the Chevy Silverado 2500HD. This truck is excellent because it is always ready to pull a trailer or push a snow plow when you need it.
One of the top design features for the Chevy Silverado 2500HD is the trailering mirrors. These mirrors are power-adjustable and extend, fold, and have unique lighting. These mirrors ensure that you can safely see everything you need to see as you tow your equipment!
Using a snowplow with your new Chevy Silverado 2500HD is always a great way to get work done for you, your friends, and your family. No longer do you have to worry about hiring someone with a plow to clear your driveway! Just remove a skidplate and the front air dam to install the plow easily!