Sometimes when you want to focus on your health and wellness, the hardest thing is knowing where to begin. Many people choose yoga because it is a low-impact exercise that offers the benefits of guided breathing and meditation. When done consistently, it can strengthen your core muscles, improve balance, increase flexibility, and reduce stress.
Read on for our list of the best yoga studios in Dayton.
SpeakEasy Yoga
Speakeasy Yoga
offers a welcoming environment to customers where both novice and experienced yogis can practice in comfort. They present a variety of yoga styles suitable for everyone, and rather than focus on strict methodologies, they deliver classes that support practitioners to develop skills that suit their individual needs and lifestyle.
The studio offers classes of varying levels and at different times to fit your needs and schedule. They have Simple, which is ideal if you are new to yoga, or working through an injury or rehabilitation. It covers foundational poses in a fun and supportive manner by emphasizing proper breathing. Strong is for the more experienced practitioners ready for a challenge with a heightened emphasis on breathing, movement, and pose sequencing with several posture variations. Rest and Restore is a session focused on the powers of restorative yoga to help you reset your nervous system and refocus energy and mind.
Other classes include Strong Stretch, Long Slow and Deep, Gentle, Barre (which is not yoga but does enhance your skills and experience), and a Prenatal session. Always focused on community improvement and involvement, the studio offers a special Community class that allows clients to pay what they can, from $5 to $15. It is a hybrid model of the Strong and Simple courses, so it accommodates various levels.
They are located in downtown Dayton, north of the Oregon Historic District at Cannery Loft Apartments. Their address is 510 E. Third St. Be sure to take your sweat towel, yoga mat, and water to stay hydrated. The studio has showers available if you need to freshen up, but have your supplies and toiletries with you.
This high-end gorgeous studio is clean, with an elegant lobby, velvet couches, and a piano, just like a traditional speakeasy from the 1900s. They offer classes throughout the day that begin as early as 6 a.m. or as late as 8 p.m., and everything in between. Check the website for a detailed list of classes and availability. The studio offers sign trial membership at a discounted rate and hosts virtual classes as well via Zoom. For information please call 937-999-7749.
Hot Yoga and Wellness Center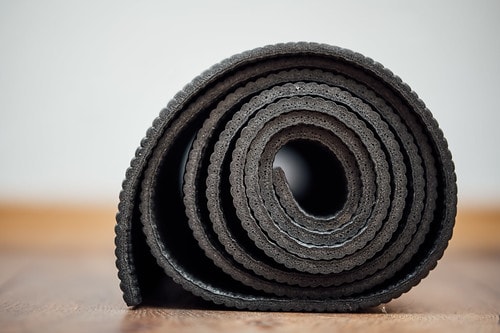 Hot Yoga and Wellness Center
offers patrons a warm and climate-controlled studio to help relax muscles and ease joints. The Hot Yoga and Wellness Center offers both group courses and one-on-one sessions to make the experience accessible to everyone and ensure the needs of each visitor are met. The studio and teachers present a range of classes to meet your needs and abilities. You can select from Hot Series Standing, Fusion Flow, Intro to Vinyasa, Vinyasa Flow, Vinyasa Advanced, and Yoga Sculpt.
Instructors request that you arrive for your session well-hydrated and with an empty stomach to maximize your comfort and ensure a quality experience. All classes are from 60 to 75 minutes long and they offer a drop-in rate starting at $15. You'll find the studio at 576 Miamisburg Centerville Road. Call 937-503-4041 for more information.
Image credit: Ivan Radic via
Flickr
Day Yoga Studio
Day Yoga Studio
is a studio and school dedicated to the idea that yoga is accessible to everyone and suitable for everyone. The studio offers classes for everyone from beginners and kids to those with advanced abilities and familiarity with the concepts, practices, poses, and movements. The studio also offers spa services including massage sessions, body treatments, aromatherapy, and reflexology.
The classes move at a slow pace for beginners and focus on breathwork and fluid movement from pose to pose. Each instructor is well-versed in the art and can guide you through the positions seamlessly, to help you achieve your desired level of expertise and reach your health and wellness goals. They offer over 90 classes per week so you're sure to find a course that fits your schedule. They also livestream classes, so if you can't make it down to the studio in time, you don't have to miss your session. For those ready to share their abilities with others, the studio offers teacher training courses that range from 200 hours to a 500-hour comprehensive training program.
They are located at 1100 Brown St. in Dayton, but also have a studio in Beavercreek. If you have questions about their policies, procedures, or membership, call 937-829-5947 to have them answered.
Ignite Yoga
Ignite Yoga focuses on empowered living by reaching your health and wellness goals. Their holistic approach to yoga begins with quality classes, differentiated levels to help customers reach their goals at their own pace, meditation guidance, massage, and nutrition counseling. The studio has a welcoming atmosphere and offers reasonable prices to help even the most hesitant individuals dive in and learn a little about yoga.
They livestream classes as well, to make your experience as accessible as possible and allow practitioners to continue from the comfort of their own homes. We suggest you try their IG Virtual Studio, with the 14-day free trial offer. They encourage you to embrace well-being now, and bring their expertise right to you, whether you have little ones at home, don't have a vehicle, or just prefer to skip the commute.
They are located at 669 Miamisburg Centerville Road and encourage you to call with questions at 937-558-8800. You can also contact them via email at info@igniteyogadayton.com.
So there you have it. White Allen Chevrolet has just shared with you our list of the best yoga studios in Dayton, Ohio. If you are looking for something to do in your life to bring balance, peace, flexibility, and improved athleticism, we suggest you check out these spots. What do you think of our list of yoga studios? Did we miss your favorite destination for a session? Let us know! Leave a message and we'll happily add your suggestions to our list.