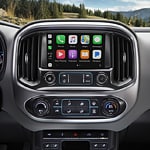 In the new age of vehicles, technology is more important than ever. With so many options available on the market today, it can be hard to know which features are right for you and your family. The Chevrolet Colorado offers a variety of innovative technology features that will help you stay connected while driving.

- MyLink

MyLink adds a whole new level of entertainment to your drive. This infotainment system brings your content, like music and apps, together in one easy-to-use interface. It's voice activated and has customizable screens that allow you to access all the features you need most while on the road. Android Auto and Apple CarPlay compatibility makes it even easier to integrate your mobile device with this system.

- Mobile Hotspot

Enjoy 4G LTE Wi-Fi with the Chevrolet Colorado's built-in mobile hotspot. At speeds up to 7 devices, this high speed internet will keep you and all your passengers connected.

-MyColor

MyColor allows you to customize the exterior look of your vehicle with a color that suits your mood. It's available in over 500 colors, allowing you to personalize your Chevrolet Colorado.