Sometimes all you need in the morning, or all you have time for, is a good cup of coffee to help you make it through to lunch. Folks living in Dayton are a lucky crew who have several local coffee shops offering some quality caffeine and service with a smile. So when you're running late and don't have time to brew your own, you'll have the energy to make it through the day with a delightful selection of freshly brewed coffee available to you throughout Dayton. Read on for our list of the four top local coffee spots in Dayton, Ohio.
Ghostlight Coffee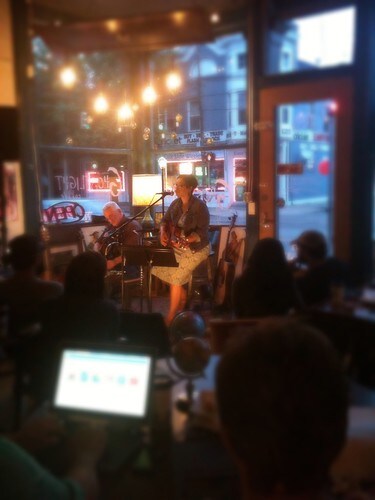 Ghostlight Coffee offers a wide selection of menu items and a variety of beverages if coffee is not your cup of tea. This small coffee shop that was established in 2011 has expanded to have two different locations and is now a favorite spot for Daytonians to gather and enjoy a nice cup of java. If you're in Historic South Park or Midtown, Ghostlight Coffee is a great friendly neighborhood coffee shop for you and your crew.
The welcoming atmosphere is perfect for celebrating big life events like the purchase of a new home or an engagement to a quick family stop for coffee for mom and dad and hot chocolate for the kids. Check their calendar for a list of performances by local artists. So whether you like live music, a warm cup of coffee, or fresh baked goods, you'll find what you need when you stop by.
The coffee shop offers baked goods, breakfast items and a coffee mobile truck, that'll cure your morning slump and give you a burst of energy with some great flavor. Whether you want a basic single-origin coffee, or a specialty seasonal blend, their coffees are ethically sourced and hand-selected. And with a continued focus on the environment and the future, Ghostlight Coffee has moved toward zero waste by offering compostable single-use coffee cups and quality line of reusable mugs. If you like your coffee strong, try their signature house blend Ghostlight dark roast to add a zing to your step.

Image via Flickr by Uriel1998
Boston Stoker Coffee Company
Boston Stoker Coffee Company was originally a pipe and tobacco company founded in 1973 that offered free coffee to patrons. As the coffee increasingly became a central attraction, and customers began purchasing the coffee for home, the establishment transitioned into a quality coffee shop and roasters. Their locally roasted and fresh brewed coffees have become a staple in Dayton and won them the recognition of being Ohio's longest-running coffee roasters for 45 years.
They offer single origin, blends, flavored, and decaf coffee. You pair your beverage with a light fare, such as a breakfast sandwich, to keep you nourished through lunch. If you work from home and run out of your favorite joe, order your brew to go, and have it delivered right to your doorstep. You can also pre-order, and pick up your pastries, tea, coffee and more from one of their six locations.
Culp's Cafe at Carillion Historic Park
Culp's Cafe at Carillion Historic Park is a unique experience that any Daytonian or visitor has to experience at least once. The decor and atmosphere honors the small soda fountains and lunch counters of the past with globe lights that provide bright lighting and show how well-kept the establishment is. They offer breakfast platters, sandwiches, soups and salads, chicken and waffles, and classic soda fountain favorites like a salted caramel milkshake. What truly sets them apart is their coffee.
Select a table inside their restored 1903 Barney and Smith interurban railcar. It is the perfect spot to enjoy their seasonal blend of roasted coffee and enjoy great conversation with your loved ones.
Winans Chocolates and Coffees
Winans Chocolates and Coffees provides the marriage of two favorite delicacies: chocolates and coffee. Winans can trace their roots all the way back to the early 1900s, and they developed from a simple candy producer to specializing in chocolate and phenomenal coffee. As a family-owned and operated business, Winans prides themselves on being a dignified and gainful place to work, that offers products authentic to Ohio's history. The chocolate factory is in Piqua, Ohio, and uses fresh ingredients to offer customers the best and creamiest chocolate possible.
Similar to the chocolate, the coffee is top-notch. With over 25 years of experience in the coffee industry, they offer fresh roasted internationally sourced beans to guarantee peak freshness. They are a bean-to-cup business that focuses on helping the environment and infuses their coffees with the same amount of care they put into supporting the community.
Whether you decide to grab one of their fresh cups of coffee or take some beans to brew at home, you must try their Buckeye blend. It pays homage to their like-named candies, and is an Ohio favorite. It is a bright and bold medium-flavored coffee with notes of peanut butter chocolate. The perfect blend of sweet and nutty to start off your day or top off a nice evening meal. You'll enjoy every sip!
Whether you are on the run and need that 2 p.m. energy boost from a cup of coffee to make it through the workday, are going to sit and relax with your favorite book and a warm drink, or are meeting friends to catch up and enjoy some good snacks and great conversation, there is a great selection of local coffee spots that will help you cure your coffee craving.
If you're in the market for a new or used automobile, contact us at White Allen Chevrolet. We've got a long-established and credible history in the neighborhood. Our friendly and knowledgeable staff will be happy to go over options with you over a cup of coffee! Did we miss your favorite coffee shop? Come by or leave a message to let us know what you think of our selection of local coffee spots in Dayton. We'll be happy to add your suggestions to our list!