It is the sweetest, the coolest, the tastiest summer treat. A symbol of hot summer days, the search for the perfect scoop of ice cream should be a tradition for all. Whether you are seeking to treat the kids out to a fun and flavorful family night, want a quick snack, or are looking for a unique way to end the perfect date, the perfect ice cream shop is the cherry on top. There are several great little shops where you can find your new favorite scoop. Read on for our list of the best local ice cream stores in Dayton.
Young's Jersey Dairy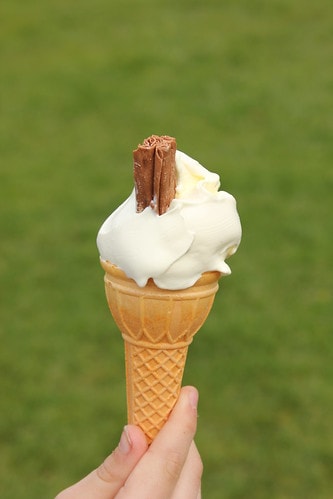 Young's Jersey Dairy in Yellow Springs has been around since 1869. The original 60 acre farm grew grains, raised hogs, and milked cows. In 1958 the Young family expanded to selling milk directly to the public. Nowadays, there's lots of family fun to have at Young's, whether you want to ride a slide, pick a pumpkin, pet a goat, or play some mini-golf Young's is your go-to. However, where they really shine is in their homemade ice cream. While on the grounds, head over to their dairy story which has enough seating for 180 guests to help get you out of the heat.
The front porch seating and outdoor picnic tables are a perfect spot to enjoy a simple vanilla cone and see the sunset on the dairy. Revisit the kid in you and let your kids be kids with a day at Young's and some creamy fresh ice cream. Select from more than 50 flavors. You and your family will be so happy!
Jet Freeze
Jet Freeze Soft Serve is the perfect place to stop after that summer baseball game. Help the family cool off with traditional flavors like vanilla, chocolate, or strawberry. You can also try their unique blueberry soft serve, a local favorite. This little mom and pop shop serves up some of Beavercreek's favorite soft serve with a welcoming smile and simple kindness. If you want something a little more adventurous for your sweet tooth, try their Jet Freeze Peanut Butter malt. It is creamy, sweet, peanut-buttery goodness!
The Sweet Retreat
Opened in 2018, the Sweet Retreat is the new kid on the block with an established history. Because they reside in what was once a Dairy Queen, they continue the legacy of serving great ice cream. They specialize in ice cream cakes, slushies, ice cream, sundaes, and milkshakes. They have over 30 different flavors for you to choose from, so the most creative or basic palates will find something satisfying.
If you're looking for more than just a sweet bite, you can also find some American classics on their menu. They have selections like chili cheese dogs, jalapeno poppers, and fries on their menu. They recently opened up a food truck, so if you're lucky you can catch them at one of Dayton's festivals or special events. If you don't want to wait, you can find them at 2613 Smithville Road.
Ducky's Snowballs and Ice Cream
Ducky's Snowballs and Ice Cream is a unique establishment with a quirky atmosphere sure to put a smile on your face. This once service station now turned ice cream hot spot, has recently added tables and chairs for patrons to sit and enjoy their treats and company. Having gained an almost cult-like status in Troy, Ducky's proves originality and flavor make a brilliant combination. They have Hersey's ice cream, malts, milkshakes, soft serve, and snowballs, flavored shaved ice.
For something a little different, try a Stuffed Snowball. It is a creative blend of flavored shaved ice with soft serve ice cream. The cold, refreshing crunch of the ice mixed with the creamy soft serve is a burst of summer in your mouth. You should also consider trying a Jim's Donut filled with ice cream. It is the perfect way to celebrate the start of summer or a little league victory.
Ritter's Frozen Custard
No Dayton ice cream list is complete without Ritter's Frozen Custard. A staple of the Gem City, Ritter's takes frozen treats and flavors to the next level. The custard's flavor pairs tart and sweet perfectly to help mix up the creamy flavors we are so used to having. Offering a rotating selection of flavors, you'll find tasty delights like peach and red velvet cake, as well as the usual chocolate and vanilla flavors on their menu. They also have more varied flavors such as their "Turtle Somethin," a combination of chewy caramel, crunchy pecan, and smooth chocolate, if you're there before they sell out. Locals rave about their Worms N Dirt, Monkey in the Middle, and Glaciers flavors as well.
They offer drive-up and delivery services so if you're in a rush or just want to stay home in your pajamas, you can call or get online and order your favorite custard. They also have Italian ices for those who like nothing tart. Some typical flavors you'll find are Blue Razz, Lemon Drop, Mango, Watermelon, and Cherry. If you're planning a party, they cater so fill out their inquiry form online to get help in setting up your event. They'd be the perfect surprise to treat your guests!
Whether you're looking to stay fresh in the hot summer months, or just want to treat the kid within you, or your own kids, Dayton has just the place for you and your taste buds. Here at White Allen Chevrolet, we know the importance of happiness and safety. We aim to provide you with the best service possible.
So if you are looking for an upgrade on your current vehicle, or just need some routine maintenance, contact us for your needs. We'll be happy to help you out and take care of your car, truck, or SUV while your family enjoys a frozen treat. What did you think of our list of the best local ice cream stores in Dayton? Did we miss a local favorite? Stop by or leave a message and let us know. We'll be glad to add your suggestions to our list.

Image Credit: EEPaul via Flickr