Regular car, truck, and SUV maintenance may seem like a straightforward activity, but every vehicle has its special requirements. Follow them, and yours will stay good as new for decades. Otherwise, your vehicle could fall apart long before you get your money's worth.
If you have a 2021 Chevrolet Silverado 1500, follow this oil change interval and maintenance schedule to keep it in tip-top shape.
Repeat These Steps Every 7,500 Miles
This maintenance interval has mostly to do with the fluids and basic work that can be done on your Silverado 1500. Every 7,500 miles, have your tires rotated. Get your fluids checked and filled to the proper levels as well. Important fluids include brake fluid, radiator water, engine oil, transmission fluid, and antifreeze. Many of these tasks can be done from home, though it's best to let a certified professional do the work. They might catch something an untrained person wouldn't see, saving you a lot of money in the process.
Repeat These Steps Every 22,500 Miles
Do everything listed in the first section again, then have the filters in your vehicle replaced. It isn't certain that your oil filter will need it at this point, but have it checked just to be sure. Regardless, your air filters need to be replaced when your car clocks 22,500 miles. Make sure you change them all. And if you have seat vents or other special interior additions, you may have more than one that needs replacement.
Repeat These Steps Every 45,000 Miles
After this mileage, rotate your tires, change oil, replace all filters, and check the evaporative control system — we recommend a specialist do these, not DIY. It's also wise to do a full-service checklist on your 2021 Silverado 1500 at this point. During a full-service checklist, your mechanic could find issues that would've been far more expensive to fix had they been missed. The engine area and others should be checked for liquid and gas leaks. In addition, four-wheel-drive Silverado 1500s under 8,600 pounds need their transfer case fluid changed every 45,000 miles.
Repeat These Steps Every 97,500 Miles
At this point, spark plug replacements are a must. They'll deteriorate and lose their spark if you wait beyond 100,000 miles, which could cause serious engine issues. Have every form of fluid in your 2021 Chevrolet Silverado drained and replaced, and let a reliable technician wash your systems internally if possible. The cleaner your systems and their fluids are, the better and longer your Silverado 1500 will run. Also, Silverado 1500s larger than 8,600 pounds will need their transfer case fluid changed at this point.
Repeat These Steps Every 150,000 Miles
This is the mid-life point for a well-maintained and sturdy truck. If you've made it to 150,000 miles and your 2021 Chevrolet Silverado looks and runs like new, pat yourself on the back. You've done a great job so far. That said, Mile 150,000 is when your dealer's professional maintenance personnel will need to go over your entire truck with a fine-toothed comb.
Their check protocols cover every functional aspect of the 2021 Chevrolet Silverado 1500, so you can be sure that their service will be better than those not properly certified by Chevrolet. The technicians will make sure the engine cooling system fluid is fully drained and replaced, as it needs fresh fluid at 150,000 miles. Drive belts and other internal items like cables, valves, and plugs may need replacement.
Don't worry; the team at White Allen Chevrolet can do the job competently.
Beyond 200,000 Miles: Follow These Tips Down the Road
Throughout its useful life, your 2021 Chevrolet Silverado will need regular checking of brake pad and fluid, brake and motor oil leak, and realignments. These services will be especially crucial when your car goes beyond 200,000 miles. At this point, shocks and struts should be checked regularly, tire pressure watched attentively, and vehicle cleaning done even more frequently. Have your tires balanced regularly to maintain maximum traction and control as your Silverado ages.
Remember to replace your truck's lamps and bulbs, especially if you have a custom light bar set up with parts that aren't commonly carried at auto shops. Also, ensure your Silverado doesn't sit for too long unused. Stagnation can destroy a vehicle as easily as improper use. Give it a breath of fresh air regularly if it isn't your main vehicle anymore so that it'll run well for as long as it can.
Prepare your truck for the conditions you're most likely to face on the road ahead. If you're in a cold area, we recommend you get tire chains and snow tires. But in a hot zone, consider sand tires and a portable air conditioner for more cooling power.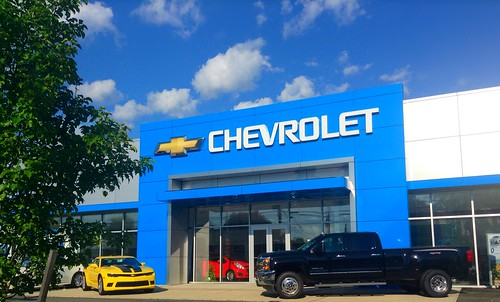 "Chevrolet" by Mike Mozart Licensed Under CC BY 2.0
Other Money-Saving Tips
Ensure you read through your 2021 Chevrolet Silverado 1500's owner's manual until you almost memorize the content. The more you know your truck, the better you can take care of it or help others do the same. Whether you're looking for fluid change schedules, maintenance checklists, or basic tips, all of it will be in the manual. It also contains the proper wheel and tire sizes, bulb sizes, and other important information for parts of your Silverado that'll need regular replacement components.
Further, ensure your Silverado 1500 stays covered by its manufacturer's warranty for as long as possible. This coverage will keep your repair and maintenance costs low whether your truck has 10,000, 100,000, or many more miles on it. And these plans can be lengthened with extended warranty agreements, so ask your dealer for details.
At White Allen Chevrolet in Dayton, Ohio, we're dedicated to getting you into a grand truck and helping you keep it in perfect running order. Our expertly trained and certified maintenance personnel know your Silverado like no one else, and they're ready to assist you as needed. Schedule service online or give us a call when these intervals arrive, and we'll do our best work on your 2021 Chevrolet Silverado 1500.