Whether you're from Dayton or just visiting, knowing some quality spots to score your favorite seafood dishes is a must. Read on for our suggestions of the best seafood restaurants near Dayton, Ohio.
Jay's Seafood Restaurant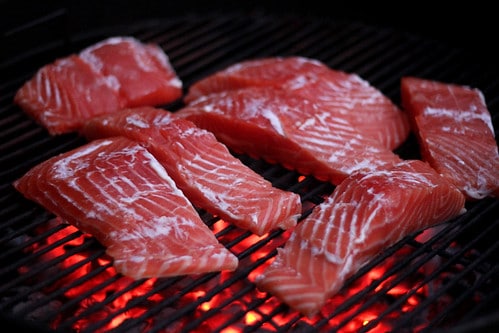 The storied past of Jay's Seafood Restaurant and the building it resides in have become a seal of pride for the Dayton community, dating back to 1882 when James Jacob Ritty opened the famed Pony House Restaurant with a specially made Honduras Mahogany bar. That 5.400 pound hand-carved wooden bar now sits in Jay's Seafood Restaurant.
As you enter, you'll immediately notice the friendly and professional atmosphere. They take seafood seriously! Once you are seated, we suggest you begin your meal with one of their sizable appetizers. Try the oysters on the half shell. They are Blue Point from Long Island Sound and are juicy with a fresh and mild flavor. If you want to save the seafood for your main dish, try their Golden Artichoke Hearts, perfectly baked in garlic butter and topped with plenty of parmesan cheese!
As the main course, we suggest you go with something regular customers love. The Grilled Rare Tuna is certain to cure your seafood craving. It is yellowfin tuna, cooked rare and singed over a fire and served with char-grilled vegetables and wasabi for some dipping fun. The flavors pair perfectly together and make for a satisfying meal.
If you like your seafood a little crunchier, you can't go wrong with their Fried Shrimp plate. The entrée includes a generous serving of shrimp sourced from the Southern Gulf of Mexico, lightly battered, and fried to golden-brown perfection. If you aren't too hungry, go for the half order to save room for dessert!
For the best seating and service, make online reservations one day in advance. You'll be certain that the kitchen and chef won't run out of your favorite seafood fare and you're getting the quality ingredients customers of Jay's Seafood Restaurant expect. Their hours of operation are Wednesdays through Thursdays from 5 p.m. to 9 p.m., Fridays and Saturdays from 5 p.m. to 10 p.m., and Sundays from 5 p.m. to 9 p.m. They host parties and serve for special occasions. Call 937-222-2892 for information on hosting your next large gathering or for same day reservations for an intimate dinner for two.
Image Credit: Didricks via Flickr
Club Oceano Seafood and Bar
Club Oceano Seafood and Bar try to keep things simple. They believe that simple food preparations using the finest ingredients available create a joyful journey for your taste buds. This is the spot if you're looking for some Cajun-style soul food. With over 15 years in the restaurant business, they know that a quality dining experience depends on the food, the atmosphere, and the people that cook, serve, and create your entire experience.
Their simple home-cooked style Cajun recipes have a little extra flair with the help of some Asian spices and seasoning. You won't find flavors like this anywhere else. If you go for lunch and want something a little light to keep away the mid-day slump, try their Salmon Sliders. They are served with garlic aioli, tomatoes, caramelized onions, balsamic glaze, and house-cut fries.
For dinner we suggest you start cold with the Neptune Cocktail appetizer. It is shrimp, tuna, and king crab served with the Club Oceano Cocktail sauce. Move on to their Agave Salmon which is Scottish Salmon pan-seared in a warm and savory garlic butter sauce. Add some asparagus to your order for a perfectly filling and healthy meal.
They serve brunch, lunch, and dinner and are open seven days a week from 11 a.m. to 10 p.m. Their bar has a wonderful selection of drinks that pair perfectly with most any meal you choose. Ask your bartender or server for suggestions.
JJ Fish and Chicken
You can't be in Dayton without trying JJ Fish and Chicken at least once. This feel-good food is a treat and the crunch on their perfectly fried fish and chicken can't be beat. JJ Fish and Chicken has an online menu available so you can take the goodness home and enjoy their soul food from the comforts of your own home. They have generous servings and their prices can't be beat. Try the catfish fillet or whiting nuggets to introduce young picky eaters to something new. The kids will fall in love with the crunch and clean flavor of the seafood.
Stop by one of their convenient locations at either 2314 Gettysburg Ave., 2911 Salem Ave., or 1926 Needmore Road, to get your friend chicken fix. Make sure to go hungry!
Bonefish Grill
Bonefish Grill specializes in bringing market-fresh fish from around the world to Dayton. People flock to this establishment for their wood-grilled flavor and hand-crafted cocktails. This contemporary grill is conveniently located at Dayton Mall. Chefs work closely with local fishermen to source the fish locally and ensure customers are getting the freshest ingredients possible. Try their specialty pecan-parmesan crusted rainbow trout or their Maryland-style crab cakes. The kids menu includes sure-to-please favorites like popcorn shrimp and fish strips.
They are open for dine-in and typically close at 10 p.m., following mall hours. Be sure to ask for one of their specialty cocktails to pair with your meal. You won't regret it!
Here at White Allen Chevrolet we focus on quality and consistency above all else. We want our customers to receive one-of-a-kind service and will try our best to ensure your satisfaction. Contact us for all your vehicle needs, whether you want to buy new or used, need to trade in, or just want some routine maintenance on your current vehicle. Our friendly, professional, and informed staff are ready to help!
So there you have it. White Allen Chevrolet has just shared our list of the best seafood restaurants near Dayton. What do you think of our list? Did we miss your favorite restaurant - one Daytonians love? Leave a message or stop by our showroom at 442 North Main Street to let us know. We'll be happy to include your suggestions on our list.