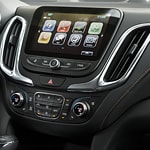 In Dayton, drivers can turn to the Chevrolet Equinox when they need a comfortable and powerful SUV. Not only will it give you high-tech features and plenty of comforts, but it also gives you two powertrain options to choose from. All models except the entry-level L can also be upgraded to all-wheel drive if you would like.
Both of the engine options for the Equinox are turbocharged. The first is a 1.5L and it has the ability to make 170-horsepower plus 203 lb-ft of torque. Your other option, a 2.0L, is capable of creating 252-horsepower and 260 lb-ft of torque. The standard engine gets paired to a six-speed automatic transmission while the optional engine works with a nine-speed.
Depending on options and the engine, the Equinox can tow up to 3,500 pounds. At WHITE-ALLEN CHEVROLET, we love that this impressive amount of power does not mean the Equinox is a gas guzzler. In fact, the opposite is true, with this SUV capable of getting up to 26 mpg city and 31 mpg highway.